The Foundry Theatre is taking a PAUSE for this year — no shows, dialogues or community projects — to REFLECT on what we've done over the past 24 years, and to consider what The Foundry might be(come) NEXT. 
Reflection  =  building our complete ARCHIVE,  most of which is now hosted on the Work Page of this website (more to come)  +  creating a BOOK about the evolution of the company's inquiry.  Since these will be Foundry 'productions', their form and content will be created by many people, who continue to widen the frame of what The Foundry has been and might yet be. We whole-heartedly invite you to be one of a glorious Many.
Responses
I gather the Foundry is taking a "pause". That's crap. It's not a word that could ever be associated with the Foundry. Ferocious, intelligent energy and thus momentum has always been in their DNA. A pause perhaps from trite expectations, but never a pause from an authentic, honest, heartfelt, and world-aware embrace of the highest artistic standards. My favorite thing about the Foundry is always my most recent experience. Rob Orchard
rob orchard
It all comes down to the bus tour for me. It's the most important ride I've ever taken. What if I didn't get on that bus? It's probably the most important question I ask myself. Did the show change my life? I really don't think one show can. Did the people change my life? Without a doubt. I met you, Melanie, when truly no other theater would take me in, and you did. I remember getting rejections from all these theater companies I would never work for now. And I showed up to a workshop of a then untitled Kirk Lynn play and after just said, I'll do anything. And you said, come by Monday. And I did and you made the Foundry a home for me. And the people you made a home for made a home for others, and they made a home for others and it was truly never ending. Of course we're all just one big dysfunctional family. And that's part of it too. Is it because we care too much? If so, why do we care? How / why are we wired to care? What is really worth caring for? What is the Foundry? Was / is it just a theater company? God I hope not. It was way more important to me than theater. To call it a community seems too precious. The Foundry was / is / will never be precious. The Foundry is resilient. We are all fighters creating s place for the most brilliant and loving of all humans to create a world we want to live in. It's an ideal. Very hard to sustain. But I guess each Foundry show was a way to begin again. And again. And again. To get as close to that fleeting thing, that has brought us all here, whatever that may be.
Moe Yousuf
The first performance I saw at The Foundry was The Box. But after seeing it once, I couldn't stay away and I ended up returning multiple times in order to bring friends and family. Since then, I've felt such trust and faith in The Foundry and have never been disappointed. What an incredible space, community, and powerhouse.
Ally B
I hardly know where to start when it comes to the Foundry and what it has meant to me, how Melanie's fearless vision and tireless efforts have forged theater that has consistently inspired, provoked, challenged, astonished, fascinating, delighted, amused and enlightened me. No other company in NYC that I can think of has so consistently and effectively struck a balance between bold artistic experimentation and socially conscious activism. Looking at the list of productions is like a "greatest hits" of my favorite theatrical experiences; it feels ungenerous to choose only one, self-indulgent to list them all. The Foundry means incredible performances by extraordinary actors in exceptional work: Rinde Eckert's "And God Created Great Whales", Birgit Huppuch's astonishing monologue in "Telephone", Okwui Okpokwasili in "The Roaring Girle" (or with Tony Torn in "Democracy in America"), Maggie Hoffmann and Steve Cuiffo in "Major Bang", David Greenspan in "The Myopia", Taylor Mac and Lisa Kron (in the same show!!!) in "Good Person of Szechwan" – I could go on and on. The Foundry means supporting new, urgent, necessary voices like Tarell Alvin McCraney's "The Brothers Size". The Foundry means theater in unexpected places that shows us the world from new perspectives like Aaron Landsman's "Open House" and "The Provenance of Beauty", co-created with Claudia Rankine (!!!). It means dialogues and community programs and All. The. Things. Thank you, Melanie & everyone who has kept the Foundry going all these years. You inspire us to persist as artists and citizens. Everyone who has experienced the Foundry's work has emerged a little more conscious, a little wider, bigger, more; and thus the world has been made incrementally better.
Andy Horwitz
I have been overwhelmed by what to write about The Foundry for months... so I'll choose something simple but meaningful. The Foundry has the best terrace (aka illicit roof access) ever! If only that roof had ears - thousands of conversations about theatre and life and art took place under that slice of East Village sky. I had my job interview out there that lead to 4 years of employment. For a long time, I was terrified that I'd get locked out, but the fear went away and love it out there. Like so many things about The Foundry, it was incredibly special.
Amanda Feldman
Flight school. At 20-something I joined the Foundry board. It's not something I really thought about. Melanie asked and I said yes and then there I was in meetings. Lots of meetings that had complex new words like DRAMATURGY. They also had spreadsheets and adults. I don't think the other board members thought of themselves this way (adults). But for me, it felt like the craziest club. A club of adult things like payroll, smokers, Talvin, Morgan, Melanie and Race of the Arc Tattoo. Now. From the vantage point of 40-something, it is clear what flight school actually looks like. See, they put you in a plane with a seasoned pilot(s) and you log hours. Plane up, plane down. And, behind that routine: - Straining engines that defy belief and lift off the goddamn ground. - Hours spent actually plummeting from the sky and turning upside down. - Weird planes that streak over airshow bleachers and scare the civilians. - Unimaginable destinations you cannot walk to on your own. Then. For those of us that, at 20-something self-defined as "grounded", who felt a calm assurance from balanced budgets, but really truly also loved the impossible. Some school was/is in order. Sometimes you have to belt-in with seasoned pilots and just trust that "balance" has many forms. Talvin Wilks, Morgan Jenness, Melanie Joseph and me (?) maybe there were others but that part's hazy. How do you even begin to describe the Jedi-risk training that I got from these three theater warriors? The conversations. The arguments. The sheer lunacy of the productions that nearly bankrupted us EVERY TIME. Race Of the Arc Tattoo, Gertrude and Alice, And God Created Great Whales. - Straining engines that defy belief and lift off the goddamn ground. - Hours spent actually plummeting from the sky and turning upside down. - Weird planes that streak over airshow bleachers and scare the civilians. - Unimaginable destinations you cannot walk to on your own God, I love you people. I love everything you gave us. Give us. Gave me, give me. Among the lists of the impossible/achieved: I made Melanie get a retirement account. Defy the odds, my friends. Do it collectively. Crowdsource your love and your risk. Foundry Theater flight school 4-ever.
Esther Robinson
Wrote my first theatre review for a Foundry production, The Race of the Ark Tattoo, back 1998, for an undergrad course at Princeton. Years later, I never watch a play critically without visualizing that eclectic, intimate Foundry space.
Karron Graves, Yale MFA
The first show I ever saw at the Foundry, I saw by accident. It was TALK by Carl Hancock Rux. I still have never quite put together how that happened, but as with so many perfect or beautifully imperfect things in the theater, it was an extraordinary and happy accident. I was having a tough time being in NY and away from the Bay Area. I was feeling like a fish out of water. I stepped into the space, the lights floated down and within seconds I felt at home and I felt like I was watching New York theater. I don't even know what that means, but in my heart I felt like I was watching the theater I had crossed the country to see. I had always hoped I'd get to work with the Foundry. It never happened but I got to be a very happy and inspired spectator, and hearing that it's time for the Foundry to head to greener pastures or to explore other solar systems, well they're going to take a piece of my heart with them. They're forever a bright star in the NY theater constellation. It's the last grouping of stars I look at before I go to bed at night in the West. It's a reminder to always keep my feet in the sand and my heart at home. Thank you for everything Melanie and the Foundry.
- Daniel Talbott
I remember working on TELEPHONE very well. It was a tumultuous yet rewarding experience. Taking poetry and trying to make it dramatic presented a litany of obstacles. Anytime you try to challenge form, you walk a very thin line. Whenever I do a play, I always have some moment of darkness in the process, some fear that it will never come together. But inevitably things solidify, the play takes shape, and you give it it's best shot. Throughout the entire process of TELEPHONE, that dark feeling never left. I felt that all the way up to the dinner break before the first preview. I mean, we were standing there in different plateaux, in the near dark, talking into microphones. I wasn't sure if everything was going to jell and the show would be amazing or if we were about to present the biggest pile of pretentious horseshit in the history of off-Broadway theatre. But the audience came, the feeling was electric, and the show transcended into the sublime. It is something I will never forget, and I'm grateful to The Foundry to have been a part of it.
Gibson Frazier
The Foundry is where I met an unbelievable group of radical people giving words and shapes to the most important question possible: Is this world what we mean for it to be?
Allison Lyman
My first experience with the Foundry was watching Pins and Needles with the cast of members of a housing organization in NYC called FUREE. I cried and was amazed at the strong storyline and cast realizing that this experience was not only life changing for me as a viewer and admirer of community theatre (and a Latinx woman paying way too much on my rent), but also for the cast and crew, first time actors and top notch directors working with a versatile group. The FOUNDRY to me represented a commitment to bridging local movements in NY with high quality theatre. They have been creating relationships between social justice and the arts in an intimate and inspiring way. Later, I was selected to participate in the Ambassadors program and invited young people from the Bronx and Sunset Park that I was working with to come see 3 Broadway plays in NYC. The young people were both grateful for the experience but also recognized the lack of stories that represented them in mainstream theatre. This led to life-changing conversations and many of the movements for inclusion and diversity in stories, narratives and art making that we see today. The spirit of Melanie as the founder and RJ as community liason have always opened space for new opportunities and out of the box thinking. Also, I consider the FOUNDRY's staff as mentors and collaborators that can be relied on for life. We marched together in protests for housing rights and climate change and also planned together to make theatre that was relevant to oppressed communities. Whatever the FOUNDRY does next, I know it will be from a place of assessing conditions and realities and figuring out what kind of spark theatre needs to make in people's lives now. Places of love will continue to be just that.
Lenina Nadal
I attended a thrilling performance of "Good Person of Szechwan" at LaMaMa in February 2013. I particularly remember the performances of Taylor Mac, Vinie Burrows and the boy actor Jack Allen Greenfield. I included some photos of that memorable evening in a separate email.
Lloyd Targer
I am grateful to Melanie for reaching out to me with a notion of making a play with magic in it. In all that she cultivates, she has the ability to bring the right combination of people together and ignite the spark to make something unique. It was an honor to work with The Foundry and the amazing team that made "Major Bang : or, How I Learned to Stop Worrying and Love the Dirty Bomb." The questions and themes raised in that piece are more relevant today then ever.
Steve Cuiffo
Taylor Mac in "Good Person of Szechuan" We took all four of our step/kids and all of us were mesmerized, challenged, and entertained — everything you hope for from a brilliantly cast and conceived piece of theater.
Ashton Applewhite
I saw telephone accidentally. I had gone to the theater expecting to see david greenspan do gertrude stein but I had mixed up the days. I stayed and I went back twice. I never ended up seeing david greenspan do gertrude stein. I can't quite explain what telephone meant to me. it wasn't like anything I'd seen before or anything I've seen since. It was a sacred experience.
Anonymous
We developed and rehearsed And God Created Great Whales in the basement of a Greek Orthodox Church on the upper west side. The cleaning staff, a couple of older women who looked exactly like you'd want them to look - dowdy, stout, with the air of skeptical peasants - watched us with amusement as we slowly came to terms. Every day I'd re-write the script from the day before. Poor Nora had to keep discarding what she'd memorized. Melanie showed up regularly to throw a spammer in the work and improve it. We didn't really know what we had until we opened. Melanie and Foundry hung with us through all the zigging and zagging as we wended our way (Maestro David Schweizer, the redoubtable Nora Cole, and Scott Pegg our puckish and insightful stage manager) toward something remarkable. So Foundry is linked in my mind with that crazy basement (under the house of God?) where we forged a work of art we loved and several life long friendships. It don't get any better than that.
Rinde Eckert
The Foundry made its very unique place in New York theatre as a venue not just for bringing to the stage riveting and provocative theatre, but also for providing a space for direct discourse on the most pressing issues of the day. My personal most exciting Foundry experience was being a part of a delegation put together by the Foundry to attend the World Social Forum in Nairobi back in January of 2007. It was thrilling to be a part of a conversation with activists from around the world, as well as to make personal connections with some of the poorest Nairobis materially - but not poor in spirit! A journey that I still find enriching more than a decade later.
Kia Corthron
So I first met Melanie (and really learned about The Foundry) when we were both on a grants panel for the Philadelphia Theatre Initiative. Out-of-town tryout in Philadelphia, natch. We stayed in touch, but then she and James Morrison visited me under sad circumstances, to see if I would take on the board seat of the beloved, too-soon departed Thomas Proehl. How could I say no? I didn't want to say no. Perhaps I was so taken by the Foundry because it was so very different from the Roundabout, where I was Managing Director at the time. I mean, Roundabout is the largest theatre company in the country with 5 theatres, 3 of them on Broadway. The Foundry? Well, The Foundry does its work on buses, in living rooms of apartments across all the boroughs, and maybe, on occasion, in an actual theatre with four walls and everything. But The Foundry is not bound by real estate. It is an idea, a movement, really. And every time I walk out of a Foundry piece, I am moved, I learn something new, about me, about the world, and I want to engage more. And to attend a Foundry board meeting? Unlike any I've every attended. Sure, we pass the minutes and look at the finances, but we talk about the mission (and talk, and talk, and talk!). And I love every minute of it. And Free Range Thanksgiving.
Harold Wolpert
The Foundry was one of my first internships in NYC and one of the first New York productions that I wanted to go see over and over and over (O, Earth). I worked in Community Programs where I saw the value of dialogue and critique not just about the theatre but about the audience engagement process. I was encouraged by the female leadership in my brief time at The Foundry, and met a good friend and collaborator. Much love, Foundry!
Julia Levine
my mentor sent me here to look for a rad job
Anonymous
It was a joyous experience to participate in A Conversation on Hope in 1998. Our youth from Global Kids were thrilled to have Cornell West participate in the workshop they led on intergenerational relationships and the language of hope. We also formed a new relationship with Ping Chong Theater Company and the amazing Trinket Monsod, which resulted in a youth version of Ping's Undesirable Elements and continues to this day. Thank you, Melanie Joseph. You and The Foundry are hope.
Evie Hantzopoulos/Global Kids
In 2006, thanks to a collaboration between David J Roberts, Stephanie Ybarra and Malcolm Darrell (all YSD students at the time) and the Foundry Theatre's Melanie Joseph, Anne Erbe and Mark Russell at The Public, our Yale School of Drama production of Tarell McCraney's The Brothers Size was brought to the Under the Radar festival. Our run there was a launch pad. The play garnered enough attention that we were put into The Public's 2007 Season, this time with Yale MFA's in hand. The full original team, Tea Alagic (dir), Burke Brown (lights), Sarah Hodges (SM), Tarell McCraney, Brian Henry, Gilbert Owour and myself remounted the production and then went on to tour thanks to the Foundry's support. The next and last stop for me was The Studio in DC, but the Foundry continued to take Tarell's play to many other venues like The Spoleto Festival; Sydney Opera House; The Abbey Theatre, to name a few. I was humbled to be a part of it for as long as i was and The Foundry always made us feel empowered and special. Reminding us what a great responsibility we were blessed with in the sharing of this particular story with the communities we were bringing it to. The support we received from the Foundry was instrumental. I recall how magical our very first run of the show was. It was filled with love, tenderness and a level of truth that we seldom find but often chase and hope for in our work. Those who decide to dedicate themselves to the theatre, to Art, sometimes are asked to look back and try to point to the thing that was a defining moment, well, The Brother's Size had the potential to be that thing. We felt it and it compelled our classmates to seek out help to keep it alive. All theater is ephemeral, but thanks to the Foundry, they gave us the chance to hold on to that magic for so much longer than we thought we'd be able to. The play still resonates with me and i like to think, i hope it also does with all those we brought it to. Thank you Foundry, for making that possible and for dedicating your work to bringing artists together. Elliot Villar
Elliot Villar
From my first Thanksgiving dinner on 2nd Avenue to a radical visioning session at St. Mark's Church, my memories of the Foundry are marked by a powerful, unifying thread: Melanie Joseph. Melanie has brought together every type of artist and orchestrated just about every type of happening always with a passion for humanity, for our collective potential. Her laughter and her strength are what I remember most in between curtain calls that took my breath away with their grace. Melanie and all that she brought to life through The Foundry helped me develop an unwavering belief that the world was a genuinely beautiful place that required nothing less than our total authenticity. From a table in a bright dining room where I moved props because a voice on the headphones told me I should, to a traditional audience seat where I leaned forward into a monologue that would not let me be comfortable ever again, The Foundry has consistently illuminated life in all its fearsome glory, as it is being lived right now.
Mariette Papic
I first learned about The Foundry from Talvin Wilks, as a "theater to know" when moving to New York City, hot on the heels of an internship at Ping Chong + Company. That summer, I applied for the Tom Proehl Creative Producing Fellowship and nearly got it, which only piqued my interest further. My first Foundry show was Marcus Gardley's "The Box," which, as a young white woman coming from a rather homogenous peer group, was one of my first experiences sitting in a theater surrounded by an audience that largely looked different than me, and responded more vocally to the play as it happened. I viscerally remember the added layer of energy and compassion in that room. Following "The Box," I brought my roommate to a "Devising Freedom" dialogue where we heard Danielle Sered speak on a panel. My roommate is a public high school English teacher in Brooklyn, and I daresay she found a new personal idol that night, as well as a new source of inspiration for her teaching, and the possibilities for her classroom. And so although my personal experience with The Foundry has thus far been limited, I have a deep appreciation for its work, and I feel its importance in the New York theater landscape. I look forward to seeing how it continues to grow.
Amelia Parenteau
I hope I'm not too late to take part in sharing these memories. I was in school during the fall and had no time for anything! Anyway, my first Foundry memory was when you did a performance at my house in Astoria. That was, maybe, ten years ago or more? I'm not remembering the name of the piece but it a cool and pertinent piece about housing in NYC and gentrification. I'll never know how we got 30 audience members plus the cast and crew into my tiny living room but it was a wonderful event that I will never forget!
Anonymous
The Foundry Theatre was my first artistic home when I moved to New York (three short years ago). Things that helped me get through my first year were: hanging out on the roof with Melanie and Kate, Foundry thanksgiving and Gideon's strange song, Casey's 1,000,000 page long first draft of what would become O, Earth(which is a testament to how much she has to give!!), cramming 14 people around a small table and reading draft after draft over the course of a year with theatre folks I've admired since I was young (Mo Angelos! David Greenspan! David Cale! to name a few). The Foundry was a place that let me know it was possible, whatever IT was- the making, the assembly (both in the construction and gathering of people), argument, thought, imagination, education, activism. For me it was a true Theatre, fueled by passion - equal parts Heart and Intellect... a song from the Earth. There's so much more to say, I don't think I'll ever do it justice in words. I'll be forever grateful for The Foundry... and it will always be a home to me, as it has been to so many.
Dustin Wills
my first experience with the Foundry Theater was you Melanie. so profound. so beautiful. so tender. so autonomous. it was outside. you were smoking. Gideon introduced me to you - thank you Gideon, always - and out of you came -next to the smoke- that lustrous gorgeous being that you are. I thank 'creation' for being in dialogue with you.
Adelheid Roosen
I can say with some confidence that the Foundry was a crucial actor in my politicization. The 2012 conference "This is How We Do It" was my first interaction with the company. I was 20 and studying theater in college. I was just starting to consider "politics," and was getting involved with activism. Having been shuttled straight from my suburban upbringing to a private liberal arts college in the middle of New York state, I was not accustomed to solo travel. But none of my theater friends were interested in the conference. I'm so glad my response was to make the plans anyway instead of stay within the safety of my social group. It would be the beginning of a very important journey that I'm still on. I had just boarded the NJ transit inbound to NYC when I got a call from the guy I was dating. He had called to break up with me while I was out of town, supposedly to make it easier on his cheating ass. I sat, traveling by myself for the first time, surrounded by people I didn't know, and started to cry right in the train car. I thought, this is too much, I should just turn around and go home. Even as I got myself to Cooper's Union, where the first event in the conference was held, I stood outside, frozen by the sounds of the city, heart-sore, wondering what the hell I was doing here. Finally, after a long time, I entered the building. There was an enormous crowd of people packed around the entrance of the auditorium. As 7:00 came and went, I distinctly remember what at first appeared to be fragile older women starting to bang on the door yelling Let us in! Let us in! When the doors finally creaked open we spilled into the auditorium where Grace Lee Boggs was going to speak. To be honest I'd never even heard of her, or any of the other speakers that weekend, or even of most of the concepts being discussed that weekend. It was a glorious way to be inducted into the world of activism.
Kaela Bamberger
I walked into Race Of The Ark Tattoo hearing only that I had to see it, that it was amazing and the less I knew the better. A guy who looked familiar, or at least sympathetic, was selling old pieces of things, and other things. Certain things were not for sale. He was welcoming if not obsequious. He was also maybe grieving, it seemed. Or forgetting how to. After awhile he gathered the remaining things (some of which he admonished us were not for sale) into a toy Winnebago, and proceeded to tell the most layered, evocative story I had seen. In some ways I think I woke up that night. I remember feeling like I was watching an engine being constructed as it ran. I remember being in awe of the mechanics and the feelings and the words strung the way they were - right through my heart - in equal measure. I left and walked for an hour or more. I was still catching up to what I'd just seen. I think in some ways I still am. Since then I've been included in Foundry processes, as a maker, an audience member, a contributor, a bouncer-offer of ideas and propositions, and each time I relish the sense that I have to run to keep up, that I have to concentrate on what is being discussed or heard or seen as hard as I do on anything in my life. The Foundry is the possible because it is a small alliance of like and dissonant minds; we are unsatisfied even as we are grateful. We know we can change the world if we just listen hard enough. We are humbled and harrowed by the beauty of it, the potential, the failures and the relinquishments. The Foundry is, literally, food, shelter, thought and feeling. I am so thankful to have been and be part of it.
Aaron Landsman
When it was time to select clothing for The Myopia, Melanie took me shopping! To THEORY! When it was time to make a final decision about what to wear, she convinced me to wear tight pants and a black print flowered shirt - things I would never have worn. She was right - and I haven't turned back since. And she convinced me to actually do the play. I didn't think people would be interested. She said people would be. She was right. And I'm proud to say that one of the most important opportunities in my artistic career was under the auspices of The Foundry.
Anonymous
My first Foundry experience was Deviant Craft. I knew zero about theatre, had seen maybe a dozen plays in my life, and was invited by a friend to see it. From the get go I was mesmerized, by the staging (In the Brooklyn Foundry) by the actors, and by the craziness of the entire play (the story is set in an insane asylum). But what really stuck with me? When Ching Valdes Aran made us part of the show for a moment. It was so exciting and I thought I was so cool.
Vivian Mamelak
The Foundry places you in the middle of an experience called a play, where you are entertained and challenged. The Foundry stands for social justice. Your experience is seeped in social justice issues, presented in a different form, tickling your brain, starting the conversation. The experience doesn't end there. Many a play ends with a talkback/around/with. What is better than having a conversation with the people who made what you just saw possible? Writers, directors, actors. The discussions go beyond the creative, they go to the issues. Ideas, beliefs, theories, solutions, opening your eyes to different possibilities. Those "what was…"? questions are answered and more. And that's a good thing. This makes the Foundry unique, timely, and necessary.
Kendall Jackman
In my various and sundry careers at BAM, NYTW, PS122, etc., "Race of the Ark Tattoo" was one of the most fantastically bizarre and compelling works of theater that I had a (small) part to help get it up on its feet. It was in a very,very hot garage off 1st Ave. Twenty-five years later, I can still see it, hear it and feel the dust in my nose.
Lynn Moffat
The Foundry Theater was the first and only theater that felt like it was creating the exact theater I wanted in the world - gorgeous, multiform, troubling, political, experimental, generous, upsetting. Every show I've seen (Good Person of Szechwan, The Box, O' Earth, Master) have been some of the fully realized work I've ever experienced. But the moment I fell in love fully and completely was at a talk the Foundry hosted between Taylor Mac and Robin Kelley. Finally - an historian (who gets art) and an artist (who gets history) were brought together. It made material the idea of the artist as a member of a civic society - one who pushes and questions that society, but a member nonetheless. We talk so much about cross-disciplinary work in the theater; rarely do we mean crossing OUTSIDE of the arts to collaborate with historians, activists, public policy experts, social workers. The Foundry actually facilitates this cross-pollination. New York is a better city for it.
Anonymous
I took a group of 15 freshmen from NYU on the most wonderful theater adventure, "The Provenance of Beauty" (2009) and it was magical in many ways. Several still talk about it as changing the way they think about theater and life.
Anonymous
In my interview, Melanie asked me what I wanted to be when I grew up. It had been some 15 years since someone had asked such a thing. I remember Melanie and Sunder leaning forward, eyes and ears open, almost excited for my answer. I have no idea what I said, but for some reason they gave me the job. And then handed me Telephone to produce. Telephone. Someone asked me what it was about and I have no idea how I explained it. Then they asked me how we could make a show on a moving bus. As if I might know. My time at The Foundry was a never-ending series of questions that I didn't know how to answer. I have no memory of how I responded to Melanie's first question. But I know the answer now. When I grow up, I want to ask questions like Melanie – questions that people ponder for years to come, questions that get at who we are, how we got here, who we want to be, and how it all works.
Amy Kaissar
I read David Hancock's The Convention of Cartography as a student. I didn't know anything about the Foundry, but reading that play exploded my mind and my idea of what theater could be. It also had a fundamental influence on the way I think about theater now. Later, when I moved to New York, the next earth-shattering experience I had with theater was seeing Telephone, which is probably when I first heard about the Foundry. I had never felt so simultaneously close and far away from a work of theater before, so intimate with something so strange, so understanding of the incomprehensible. A little later I saw Etiquette at Veselka. I attended this two person participatory piece with my friend. At some point, the audio guide told me to close my eyes, and it spoke in a calming voice about something...I can't remember it exactly, but it was poetic, almost meditative. When I opened my eyes, my friend had tears streaming down her cheeks and red eyes, which, in combination to the beautifully reflective or maybe psychologically piercing language I was hearing, made me cry. Later, I found out that her audio-guide had told her to rub her eyes and place water droplets on her cheeks with an eye dropper. Although I felt a little duped, I also felt even more moved...I felt that somehow I got something more out of it. This piece drew my attention to the power of perception, and once again opened my eyes to how theater might make space for each of our subjectivities while still creating an over-arching experience. These were just the first three Foundry shows I experienced - I have since seen many more. I only realized later that almost all of the most special and formative theater works I experienced in my early 20s were connected to the Foundry. Years later I saw Melanie Joseph speak about the project and origins of The Foundry, and it all came together. The vision and mission at play, the thoughtfulness of every aspect of the community's experience with their work, all of it, has worked to make me and every other audience member to feel like we are part of something very special, that's been crafted just for us. The Foundry produces experiences that genuinely reward reflection and engage audience members as participants in a community, no matter what type of event. They provide the theater community with a model for asking difficult questions of ourselves as artists, organizations, and citizens, and for challenging ourselves to name our values and to fully embody them. They also show us that it is not enough to do this once, but that we must continually do so, if we want to be responsive to the world as it is, and as it becomes. I'm so grateful to have been both fed by and provoked by The Foundry for all these years.
Tara Ahmadinejad
1. Taylor Mac 2. Telephone Those shows were full-bodied, cellular changing theatrical masterpieces. Unexpected. Wild. Inventive. Deeply satisfying. Strange and Amazing.
Leigh Silverman
t was the first night of the 2001 Foundry Theatre production of the Rude Mechanicals' adaptation of my book "Lipstick Traces."  It had been staged before, first in New York at the Fringe Festival in 1999 and then ran in the Rude Mechs' hometown of Austin, Texas.  I'd seen it there.  I was overcome.  "You staged the book I wanted to write," I said to Shawn Sides, the director, minutes after the curtain came down.  There was a certain anarchic-creative essence to the story I'd tried to tell that I was never quite able to get on the page.  Shawn and playwright Kirk Lynn and Jason Liebricht (as Johnny Rotten) and Lana Lesley (as the Narrator aka the Total Hysteric) and more—they did get it. I couldn't imagine it could ever be better. Melanie Joseph took over as producer when the play had its residency at the Ohio Theatre in New York.  She recruited New York actors for the other (multiple) roles: Ean Sheehy (as John of Leyden, Tristan Tzara, and Michel Mourre), T. Ryder Smith (as Richard Huelsenbeck in, among other manifestations, a phantasmagoric acrobat act as a revelation of the Cabaret Voltaire), and James Urbaniak as Hugo Ball, Steve Jones, and most perfectly Guy Debord, in not the best (no way to choose) but in a beyond the ken bit of staging—Sheehy's the faux Dominican Michel Mourre in 1950 as an actual medieval Dominican monk trudging across the stage, a rope over his shoulder, some impossibly heavy off-stage object at the end of it--which turned out to be a Paris cafe table at which sat Debord and David Greenspan's Malcolm McLaren discussing the finer points of art and revolution.  Greenspan's McLaren was the most precise incarnation--waspish, conspiring with the devil and the audience in the same wink, beyond cool, commanding the stage and the story but somehow a step back from it, silently laughing. It was almost too much to take in.  The audience was rapt.  Debbie Harry and Laurie Anderson were there, sitting together: that was exciting.  It was only about 75 minutes and it seemed like a dozen telescoped centuries.  We walked back to our hotel in shock, reveling in, reliving, restaging, every moment. Ok. The Foundry Theatre knew what they had and what to do with it.  They knew what they were going to put on stage; we didn't.  But the didn't know everything about what they'd put on stage.  The next morning the phone rang.  My wife answered.  "You'll love this," she said.  "It's David Greenspan still pretending to be Malcolm McLaren.  He--or he--wants to talk to you."  I got on the phone.  "Hello, Grail," the voice said--odd, since I'd met David and he knew how to pronounce my name, and I'd met McLaren on a panel at the Fashion Institute of Technology some time before and he was never going to learn.  He went on, rapid fire: the play was fantastic, it had to go to London, he--the faux he, that is--would produce it, and--  "David," I said, "I wish."  "What do you mean, 'David'?  You know me, this is Malcolm!"  We went back and forth until I realized it was.  He'd been there the night before.  He'd loved David Greenspan: for the first time he understood something about himself.  He'd understood how to play himself.  How the play could be completed.  Thanks to the Foundry production, Malcolm McLaren was going to take the play to London.  He was going to produce it.  And he was going to play himself. No, it didn't happen.  The Foundry production played through the Midwest, in Seattle, had a residency at UCLA.  The Rude Mechs took it to Strasbourg.  But it never reached London.  I was lucky to stay in touch with Malcolm, and even become friends, to get to know his beloved Young Kim, who remains a friend now.  Malcolm was always full of plans; playing himself--or, really, playing David Greenspan--never came up again. But I can see it now.
Greil Marcus
My quintessential Foundry moment wasn't a theatrial experience, roundtable, town meeting, or even a dinner (though there were many of the aforementioned that were absolutely life-changing). It was meeting Melanie Joseph for the first time in Chelsea, sitting at an outdoor restaurant with her for hours, chain-smoking cigarettes, looking into the twin pools of her big wide open questioning eyes and having a deep heartfelt conversation until the early morning hours about art and the artists' responsibility to social change and political awareness. The conversation was not so much about the "i" as much as it was about the nature and existence of the collective "we": or as the Bulgarian philosopher Julia Kristeva once put it, "Not me. Not that. But not nothing, either. A 'something' that I do not recognize as a thing. A weight of meaninglessness, about which there is nothing insignificant, and which crushes me. On the edge of nonexistence and hallucination, of a reality that, if I acknowledge it, annihilates me. There, abject and abjection are safeguards. The primers of my culture." That conversation thrust me into a pragmatic shift in my own life and work. It unearthed me, and continues to seed my core. There would be many such conversations with Joseph over the years. Some were full of laughter, some were like two bodies making love for the first time over and over and perfectly, some sat on the edge of violent outbursts declaring war...but all were (and are) necessary.
Carl Hancock Rux
I saw many Foundry productions, but not until 2007-08 did I work side by side with the incredible, unparalleled Melanie Joseph. OPEN HOUSE took place that year, and I was fortunate to see a few of the venues... but working in the office was akin to being in a deep well or creative juices, flowing daily and incessantly. Powerful, creative, artistic woman/womyn/women have always been my favorite partner(s) in theatre work. And I am proud to say Mel and I and our cohorts at the time, cranked out some grants that were 99% successful. Because of the intensity and drive of Mel.. days I will never forget. I look forward with glee to perusing these pages of the years of play/work that are surely some of the best in NY history.
Bonnie Sue Stein
According to your website, it was June 1998. Morgan Jenness, in an early "these are artists you need to know" contribution to my education, brought me to David Hancock's "Race of the Ark Tattoo." I'm sure it was the first, but not the last, of David's plays I would see. I'm pretty sure it's the first time I saw Matthew Maher. And for a young person still in the early years of her professional career, it was a make or break moment. Plays did not need to have traditional beginnings, middles and ends. The audience didn't have to sit passively and silently. And a man with a box can fill an evening of theater every bit as fully as a cast of twenty, maybe even more so. And perhaps most importantly, one woman with a vision of theater and the will and determination to make it happen can shape the theatrical landscape. What an incredible gift to witness. That there was space in New York for a woman who knew what she liked, would stand by the artists she adored, choose difficult over easy, and give audiences a reason to leave their homes and gather communally for an experience. Melanie Joseph has provided that over and over again. I particularly remember Carl Hancock Rux's "Talk." And more recently Taylor Mac in "Good Person of Szechwan." If ever a production preceded a national conversation, it was that one. Over and over The Foundry Theatre has gathered curious and passionate theater goers and given them a memorable ride. And I suspect I'm not alone in receiving and acting on the message that a woman with a passion is a very good thing in the theater. A candle was lit on the lower east side and shone into the darkness. I hope it shines forever.
Beth Blickers
I was working as a booking agent for MAPP - just upstairs from the Foundry's office. I had recently seen Major Bang, my first Foundry production, and loved it. At a booking conference, a presenter I had become friendly with was looking for super cool, witty, innovative theater piece to begin her season with. She and I had already determined that nothing in MAPP's current portfolio fit the bill. So I suggested that she book Major Bang. She hadn't seen it but went with my recommendation on faith. It was win-win-win for all of us. It felt great to have been able to help another theater company with a booking, Vanderbilt University successfully presented their first Foundry Theater production, and I had solidified the trust of a colleague that evolved into a great presenter-agent partnership extending over many years.
Lisa Phillips
In the midst of the annual NEXT WAVE FESTIVAL here at BAM I am reflecting at this precise moment on the following facts: I have a great love for Melanie Joseph. Over the years I have enjoyed being an audience member at The Foundry productions. My belief is that the art that the organization (Melanie & Company) have produced contributed greatly to our understanding of humanity and life. THANK YOU. With gratitude, Joseph V Melillo, Executive Producer, BAM.
Joseph V. Melillo
I can't remember when it was, or what the show was, but it was my first Foundry experience. I know it was on the Lower East Side, and I know that the environment involved tables full of raw lentils and peppercorns and like that, and here it is, probably 20 years later, and I still have some of that stuff in my pantry.
Elizabeth Zimmer
My first experience at the Foundry was nothing less than amazing! I enjoyed the story O, Earth by Casey Llewellyn! I felt a part of the story, being trans myself I could relate to the story. I was a part of the history of Marsha, Sylvia, Major, & Stormie. The casting & ambiance was perfect & I enjoyed it so much I attended 3 times! Bravo! Jevon Martin
JEVON MARTIN
I did my growing up as an experimental theater maker in the mid-90's... somehow word about The Foundry trickled down to me in Austin, TX was I was living and creating work. For me, The Foundry held open a door that I knew I wanted to walk through. I think it held that door open for lots of people. I think the American Theater would be a very different place if the Foundry didn't exist.
Katie Pearl
I first experienced The Foundry in "Hot Mouth." It was an audacious assault on the senses, and I thought "who are these Foundry people. I need to know more." I would subsequently have my jaws rewired after witnessing "Gertrude and Alice," "And God Created Great Whales," and "Money Talks." Like its bandleader Melanie Joseph, The Foundry refuses neat categorization. It's theater, not theater, a sit in, communal dining, an a freakin' bus ride. Who does these things? Later I was asked to audition for their show "Lipstick Traces." When I got to the darkened cavernous room, they handed me lines for Malcolm McLaren, and asked if I had a Northern Brit accent. In my head, I was silently thanking the theater gods that I didn't have to play a pagoda. That's how empowering The Foundry can be.
Ralph B. Peña
My first Foundry experience was with the Hope conference. It was exhilarating, confusing, rich, wild, and so so full of potential, almost to the point of overwhelm. People standing on chairs to speak, small groups of people in dialogue, speakers, conversation, excitement, turbulent and incredible content . . I also remember running down halls, I had babies at home, couldn't stay, couldn't leave. Powerful.
Anonymous
Internships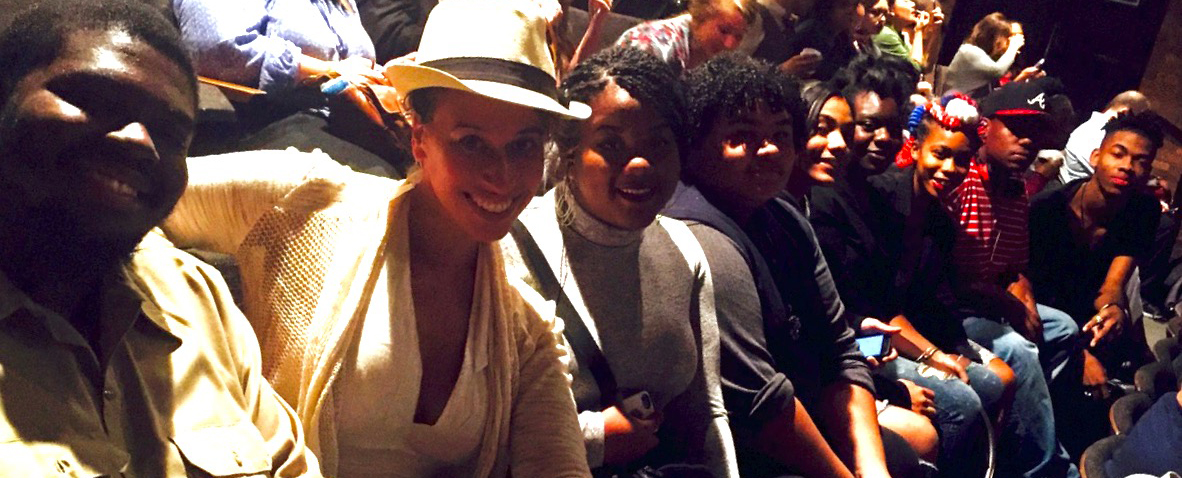 The Foundry Theatre has opportunities for internships year round. Interns may work on a specific projects – production, dialogues. community programs and/or in the Foundry office.  If you are interested in interning with The Foundry,  please email a resume and cover letter to:
interns[at]thefoundrytheatre.org
The Foundry is strongly committed to equal opportunity and diversity in all areas.
Employment Opportunities
We are currently not hiring, but please check back if and when you may be seeking employment with the company.
hiring[at]thefoundrytheatre.org
Contact
info[at]thefoundrytheatre.org
212.777.1444