Mission
Over 25 years, The Foundry Theatre assembled a community of artists with revolutionary ideas for the theatre and the world in which it is situated.

We commissioned, developed , premiered  and  toured theatrical works that explored  the (im)possibilities of theatre,  and  our body of work made passionate argument for its limitless potential.  In addition, The Foundry hosted  ongoing dialogue series and community collaborations that brought artists together with social justice workers and  stakeholders from other communities to unpack issues and  ideas of contemporary social and  political resonance.

There is tremendous vitality in the assembly of individuals who have committed their lives to the theatre, not in service of a 'career' but out of a hunger to participate in creating a broader vision – to be part of a progressive community whose ideas, art and actions might address and challenge what is unacceptable in the status quo.  Many who believe in the potency of theatre dare to hope their work will support and invigorate other individuals and communities to do the same.  The Foundry is committed to reinvestigating that ideal and staking out a new relevancy for theatre and the artists who make it within the fabric of our society. 
For 25 years, The Foundry was an ongoing performance of ideas — created by rigorous theatrical works, public dialogues and community engagement — inviting as many people as possible to consider what it means to be citizens of a world that we ourselves create.
In November 2019, with the launch of the Foundry's book, A MOMENT ON THE CLOCK OF THE WORLD, we sunset the company as a producing theatre.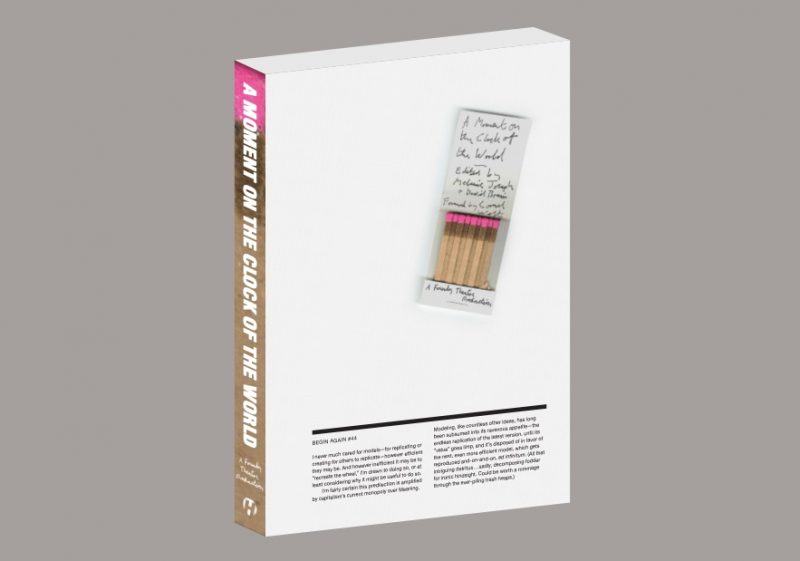 Values
The Foundry was an ever-evolving and inspiring experiment in the creation of a theatre company expressed both by the art we made and the contexts we addressed to contain it. We approached our work multi-dimensionally and intersectionally. The dimensions which guided the company's values are:
Invitation
We regard all our events as invitations with which to gather and encourage the engagement of a participatory and authorized public, who in turn continue to impact the company's evolution.
Politics
We consider our theatre company within an ecology of repairing, transforming, and collectively making the world. Our programs continue to pursue deeper meanings and practices of democracy, and our horizontal staff structure and a consulting council of artists and activists reflects these pursuits. We seek to participate in a paradigm shift in the ways that art and the artists who make it are considered and engaged in this democracy.
Making
We seek to make theatre that is driven by inquiry, and that knits together provocative content with unusual forms. Our works are born primarily of commissions made to artists to whom we guarantee, from the start, that we will produce their commissioned work, and creatively and financially support its inimitable development through to premiere and often touring.  We are committed to providing respectful compensation to all collaborators that is in relation to our permanent staff salaries; we maintain transparency of all budgets and invite our collaborators to take part in any and all elements of producing, believing artists should, at the very least, influence the ways their work is produced.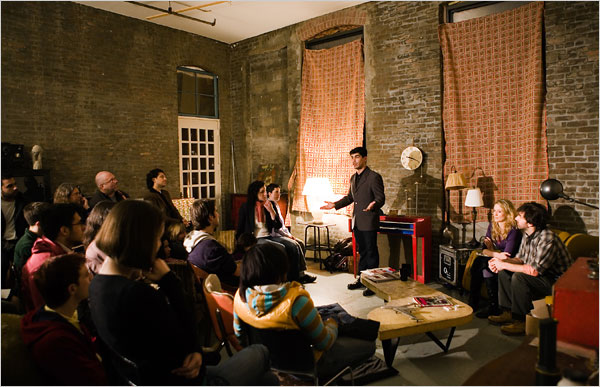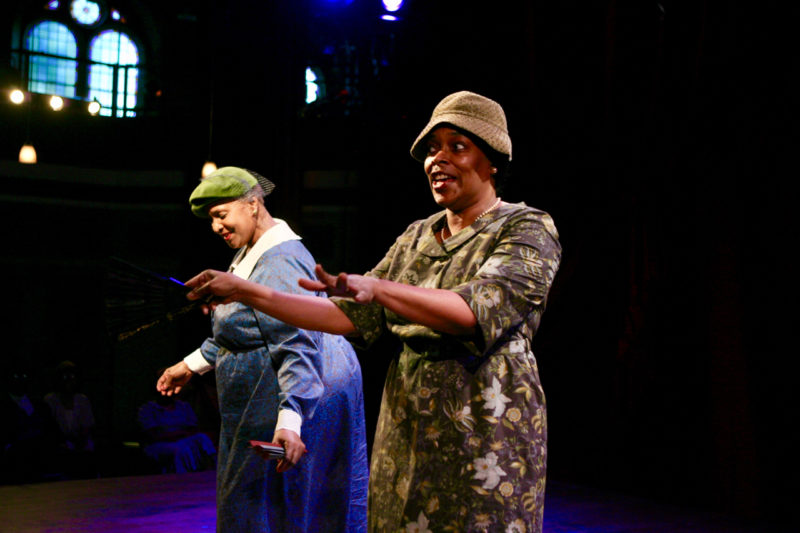 Programs
With some exceptions, Foundry productions were made from 'scratch', born of commissions made to generative artists (playwrights, poets, performance artists, composers, et al) and built within varying developmental processes and timelines. While many of our shows have played in various theatres across NYC, we also premiered works in peoples' homes, in a flea market, a restaurant, in the Brooklyn Bridge Anchorage, and other such uncommon venues, that best suit a project's form and content.  The company developed a strong reputation for the diversity of its theatrical works – from plays to bus tours, performance works to operas – which have been honored with 14 OBIE Awards and 7 Drama Desk nominations.  Foundry productions toured to leading national and international venues including: The Abbey Theatre in Dublin, The Sidney Opera House, The Barbican Center in London, The Spoleto Festival in Charleston, The Walker Arts Center in Minneapolis, among others.
Foundry Dialogues – panels, roundtables, town meetings etc.  – brought artists together with people in other professions and communities to explore the matrix of ideas and practices that shape our everyday lives and the world in which we live them.   With forums like A Conversation On Hope ('98), Patriot (f)ACT(s) ('02) or This is How we Do it ('12), Foundry Dialogues continued to unpack complex contemporary social and political issues, and the philosophical frameworks that hold them.  While talkbacks or symposia are often held in tandem with a theatre's productions, Foundry Dialogues are standalone public events which sometimes give rise to new theatre works or operate as research sites for those in progress.
Over the years we sought manifold forms beyond our productions and dialogues through which to cultivate a space for artists to connect both with each other and others who share a longing to reinvent the world. These programs span the history of the company, including conversations with theatre elders in the Legacies Series ('95 – '02), our Free Range Thanksgivings ('06-'09) that gather social and food justice organizers together with artists, to sending artist delegations to World and US Social Forums and the ongoing Audience Ambassadors Program that brings members of NYC communities organizing for social change to works of theatre and into conversation with generative artists. 
Much of The Foundry's work happens 'backstage' in the building of new theatre works, which take anywhere from two to four years from commission to premiere.  Development processes vary wildly as they follow the creation process of each generative artist. "Backstage" work also includes the research and development of our dialogues and community programs, which take from one to four years from idea to 'production'.  Over the years, the development of all our works has begun to cross pollinate, into instances of public dramaturgy in new play workshops (O Earth, The Box), in the creation of community theatre projects (NYC, Just Like I Pictured it), or handing over the curation of a dialogue series to people in communities across NYC (This is My City).
Supporters
Board of Directors (thru Nov 2019):
Judy Boals
Joan Channick
Anne Erbe
Melanie Joseph
James Morrison
Dr. Cornel West*
Harold Wolpert
*Board Member Emeritus
Artist / Organizer Council (thru Nov 2019):
Morgan Bassichis
Mallory Catlett
Jorge Ignacio Cortiñas
Lear deBessonet
Stephen Duncombe
Divad Durant
Erik Ehn
Jesse Ehrensaft-Hawley
Anne Erbe
Wanda Imasuen
Chai Jindasurat
Kendall Jackman
Steve Lambert
Taylor Mac
Matt Maher
Lenina Nadal
Carmen Piñeiro
Michael Premo
Sumitra Rajkumar
Ken Rus Schmoll
Dread Scott
Deborah Stein
Contact
Melanie Joseph can still be reached at: melanie@thefoundrytheatre.org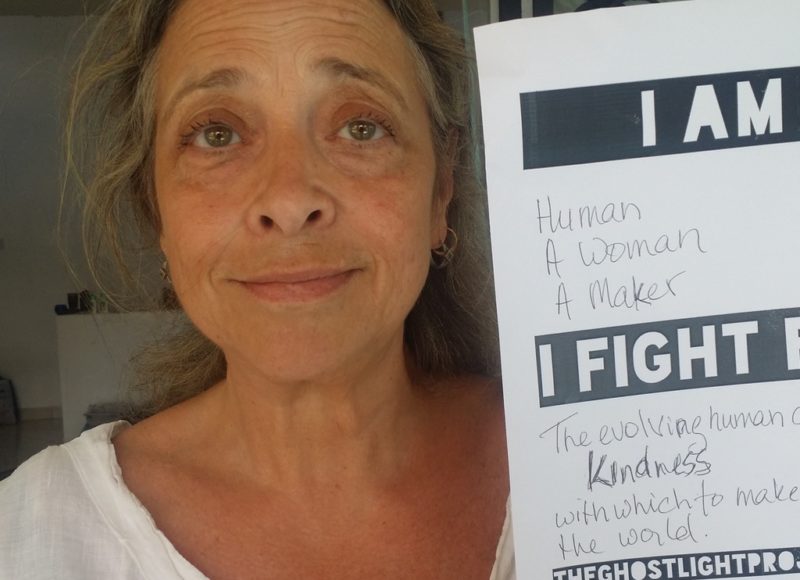 Melanie Joseph 
Melanie is a theatre maker and the founding Artistic Producer of The Foundry Theatre which she led and co-led for 25 years.  For her work with The Foundry, she was twice honored with the Ross Wetzsteon OBIE for "creating cutting edge work" and "engaging artists in some of the thorniest issues of the world we inhabit." She is a recipient of the Doris Duke Artist Prize, the Skirball Kennis T.I.M.E. Artist prize, a Lucille Lortel Award for Artistic Producing, and has twice been awarded the Duke/ Mellon Mentorship grant for mentoring "theatre leaders of tomorrow." Joseph holds a BA in Literature from the University of Western Ontario and a Post-Baccalaureate degree in Pre-Medicine from the City University of New York.