Directed by one of Russia's master directors, Kama Ginkas and performed by Oksana Mysina, one of Russia's most venerated actors, the explosive K.I. from Crime depicts the last living moments of Katerina Ivanovna (K.I.), a character drawn from the margins of Dostoevsky's "Crime and Punishment." In Ginkas' adaptation, K.I. performs to an audience of 'guests' at a memorial for her recently deceased husband. Penniless, she sees the encroaching despair his death will bring to her life and the lives of her children. The audience soon discovers that this "memorial" is not for her husband, it is for her own soul.
Performed entirely in Russian, without subtitles, Mysina's K.I. is a spellbinding character in any language.
2005 : Performed in a converted storefront on W. 38th St.
Artists
Adapted from Dostoyevsky's Crime and Punishment by Danil Ginka
Conceived & Directed by Kama Ginkas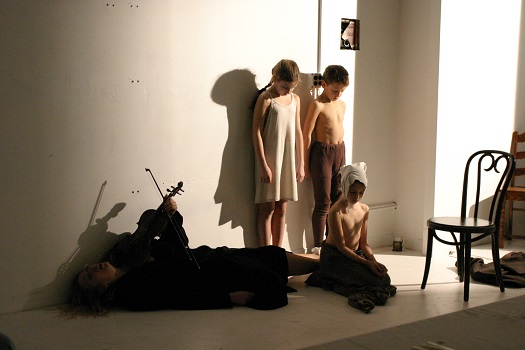 Press
"…beyond language, the consummate expression of an unfathomable need." – The New Yorker
"…leaves you aghast, with a renewed sense of theater as art." –Timeout NY
"[A] kind of vehement clarity. Ginkas has a commanding theatrical vision."  -The New York Times