Ariana Reines' TELEPHONE is a theatrical triptych inspired by Avital Ronell's The Telephone Book; an epic piece that, like Ronell's book, operates like a switchboard, connecting people and places across time and space. In Act I, Alexander Graham Bell and Thomas A. Watson return to the stage, having first presented their history-changing invention to the public in theaters, vaudeville-style. In Part II, Miss St. (Jung's notorious schizophrenic madwoman) takes over, suffering the slander of invisible telephones and telling the audience all about it. Part III is a succession of cell phone conversations in the dark between people who love each other. Together, the three parts add up to a tender yet ferociously poetic work that asks what it means to "take the call," not knowing who or what will be on the other end.
2009 : Performed at the Cherry Lane Theater
Company
Written by Ariana Reines         
Directed by Ken Rus Schmoll
Dramaturg:  Sunder Ganglani
Featuring:
Gibson Frazier
Matthew Dellapina
Birgit Huppuch
Set Design:   Marsha Ginsberg
Costume Design:  Carol Bailey
Lighting Design:  Tyler Micoleau
Sound Design:  Matt Hubbs
Stage Manager:   Molly Minor Eustis
A.G.Bell: You know something Watson? It's labor to maintain one's integrity the whole length of life. you know. Just to be a single person. It's. Exhausting. How do people do it. How do they. Remain themselves. I mean. I had to get ill all the time, didn't I. And take the airs. Convalesce. Just to remain the same person. To become a person and to remain one. To be an uncontaminated person. I mean, one minute you're settling down into yourself. And the next you are consumed by. By. Some phenomenon. (gesturing at the telephone) I don't even like the thing. Clumsy.
Press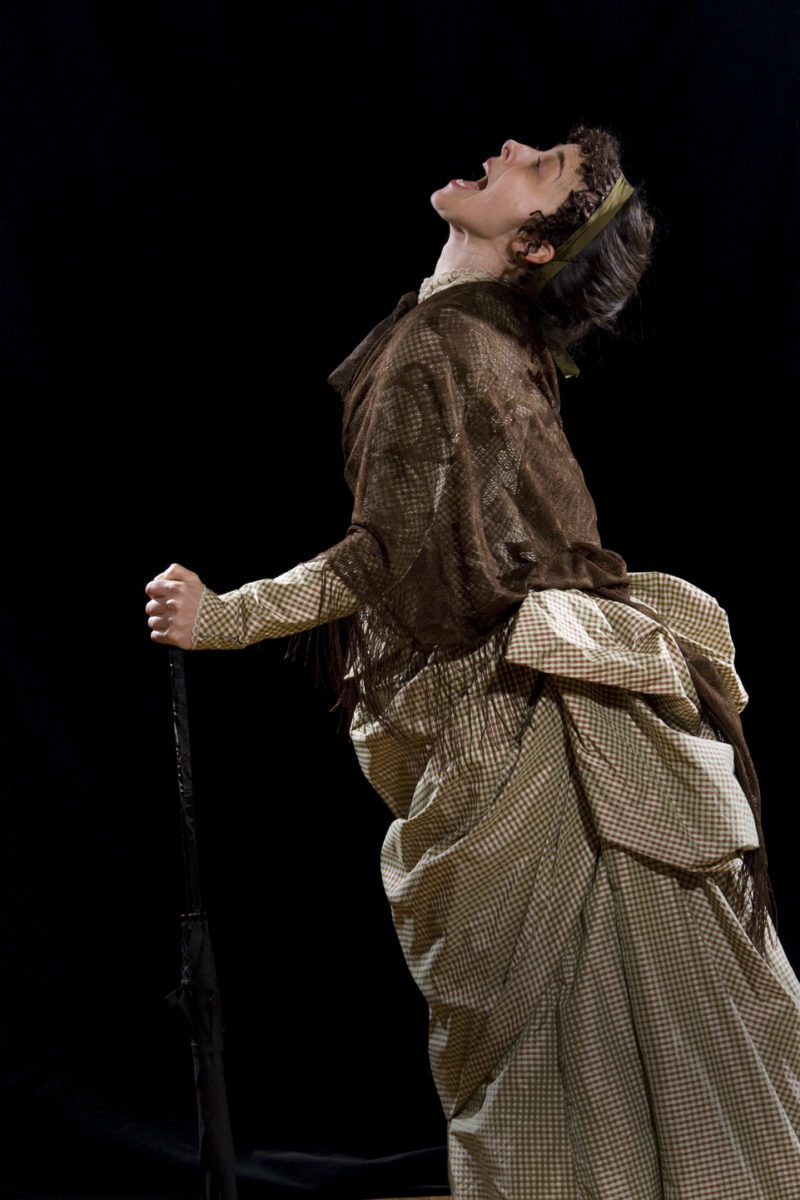 "TELEPHONE is an inspired and utterly original new tone poem of a play."…  
The New York Times
"With TELEPHONE, Reines has vaulted into a distinctly uncrowded category of next-generational thinkers." –Variety
A bona fide tour de force… that Ms. Huppuch delivers with symphonic variety and deliberateness."  –The New York Times
---
Winner of 2 OBIE Awards:

Best Direction: Ken Rus Schmoll
Best Performance: Birgit Huppuch