For MASTER, playwright W. David Hancock has created the character of 20th century African American artist "Uncle Jimmy" Clemens, who died poor and alone, leaving behind an enormous body of work for which he was never recognized.  Uncle Jimmy's paintings, sculptures and collected artifacts — created for this production by visual artist, Wardell Milan — constitute Uncle Jimmy's life's work: a radical retelling of Huckleberry Finn which he referred to as "The Illuminated Twain."  Uncle Jimmy's widow, Edna Finn has curated and installed the definitive collection of her late husband's work to share with the public.  And tonight her show will be visited by Uncle Jimmy's estranged son, James.  Written by W. David Hancock in collaboration with visual artist Wardell Milan, MASTER exists between the language of theater and the silence of art as it confronts the inadequacies of our American stories head-on, and imagines another kind of freedom.
2017 :  Installed and performed at The Irondale Theatre Center, Brooklyn, NY
Company
Written by W. David Hancock
Art by Wardell Milan
Directed by Taibi Magar
Dramaturg:  Sunder Ganglani
Featuring:
Mikeah Jennings  
Annie O'Sullivan
Set:  Marsha Ginsberg
Lights: Thomas Dunn
Video:  John Narun
Sound: Mikaal Sulaiman
Props:  Gian Marco Lo Forte
Costumes:  Tilly Grimes
Stage Manager:  Belinda Hardin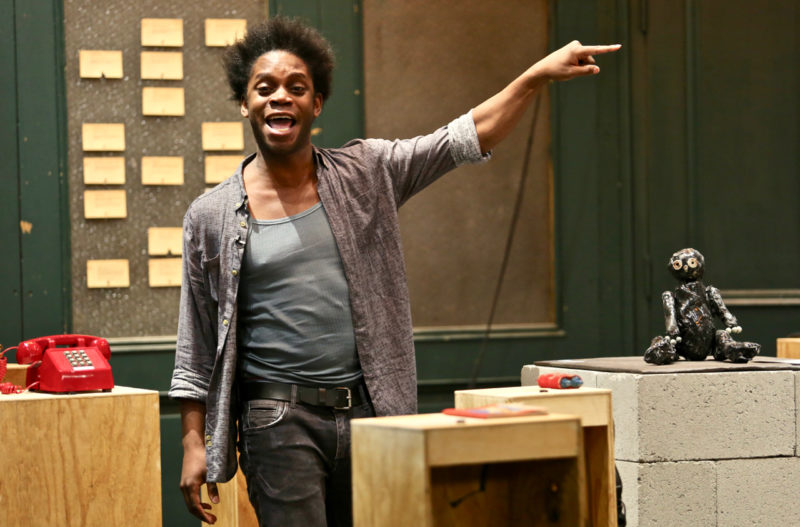 Selections of "Uncle Jimmy's" Work
Visual art by Wardell Milan  :  Wall-card text by W. David Hancock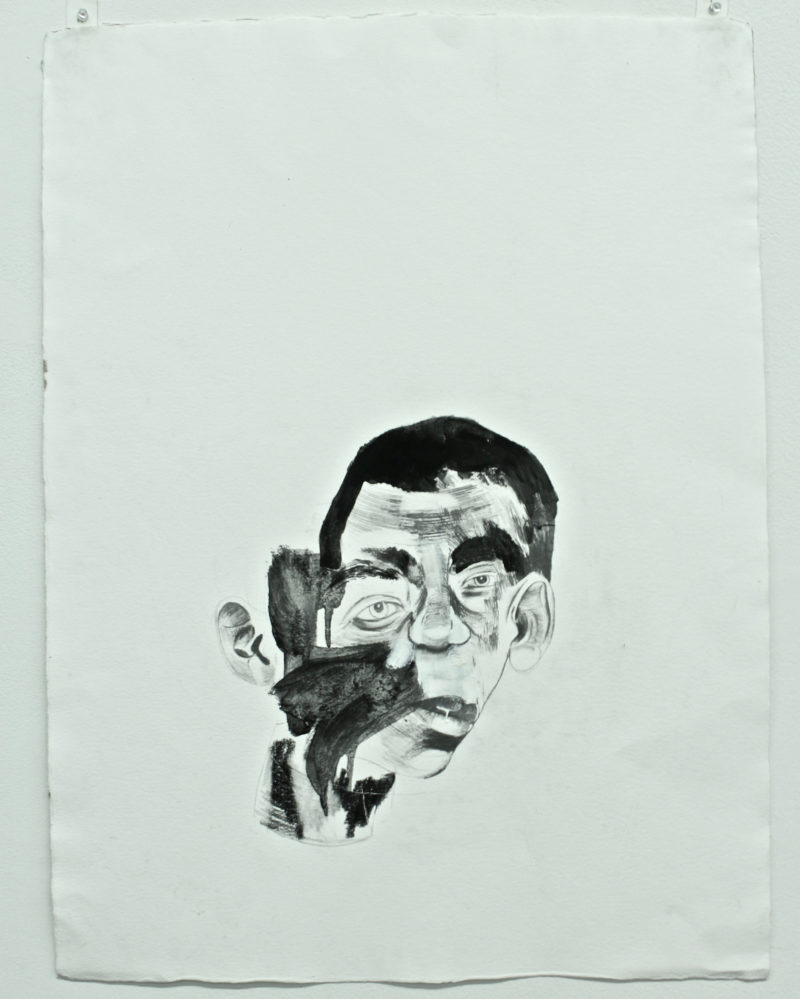 Self portrait
(unfinished)
"the idea of 'human' is an ongoing investigation — to be continued by those who follow. Important visions are impossible to perfect in one lifetime. Rely on your children to make your star shit shine" 
– Uncle Jimmy
"Paige was Jim's last living descendant." 
Paige was modeled after Uncle Jimmy's own daughter, now deceased. In Uncle Jimmy's mythology, Paige blows up Monticello.
"Good terrorism destroys a culture's deepest held beliefs—like how in the 19th century, the anarchists once tried to destroy the clock in Greenwich, England to rattle the British Empire's assumption that it was the center of time itself."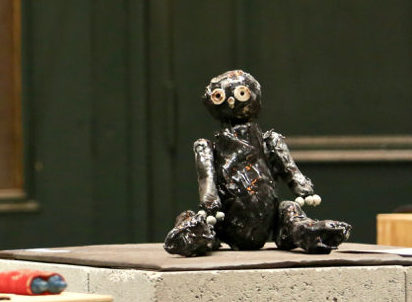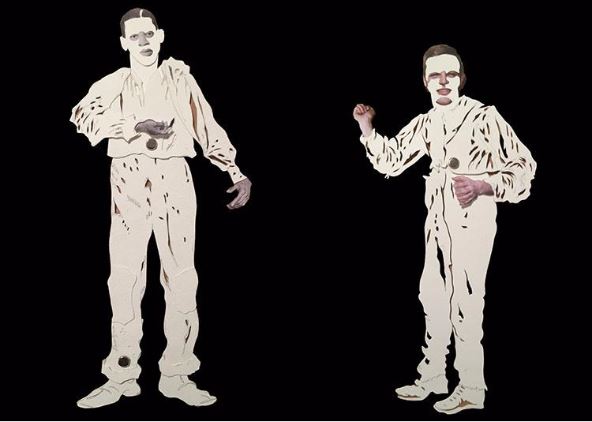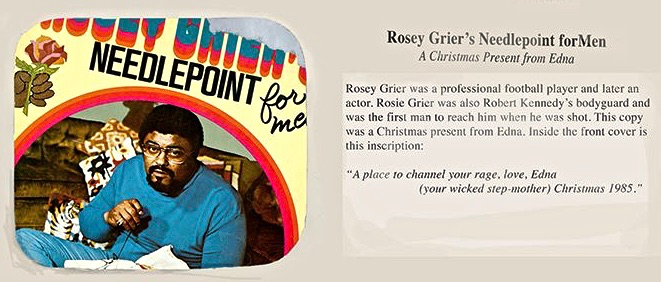 Press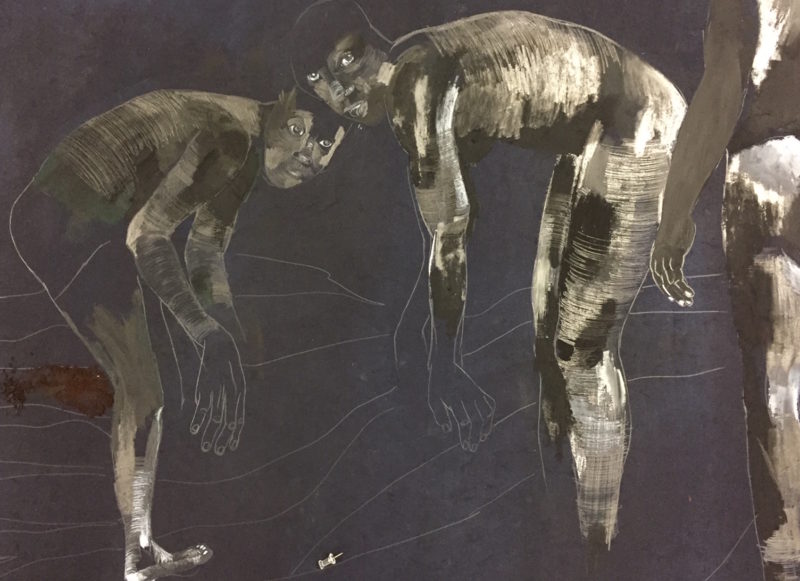 "Disturbing…Powerful…the perspectival spirals and the formal riddles announced by the artwork before the play proper expand dizzyingly within it… The drama is something that seems to be leaking from the very forms so elaborately carpentered to contain it.  
The New York Times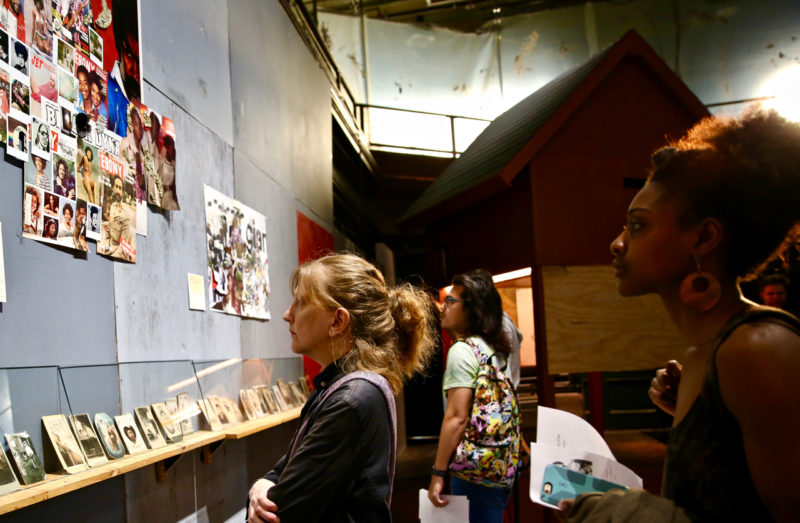 "MASTER is one of the most fascinating theatrical experiences you will see this season… a mind-bogglingly intricate and multilayered experience that delves into the issue of race in startling, chilling ways"– Theatermania
"I found myself scouring the Internet for traces of Uncle Jimmy and his family after the show, not willing to believe, after the hyper-realistic reception, that he is not a part of the reality as we know it…

what makes a narrative "real" anyway? Twain's literature, Hancock's spin-off, and Milan's visual augmentation, sprung out of the same part of history that contains a debt that the world has yet to repay Uncle Jimmy, who isn't one man, but the amalgamation of every black man and woman who was, and still is, a victim of slavery and racism. Uncle Jimmy's life story is the missing component of the American narrative immortalized in Twain's novel…"

– Theasy