A weekend of "show & tell" presentations about some of the systemic approaches that are innovating new modes of democratic practice, featuring practitioners from across the world who are (with millions of others) redefining nothing less than how the world works.  Innovative and functioning alternative practices in economics, safety, media, politics and more demonstrate that the world is already working in radically imaginative and different ways.
April 2012 : Cooper Union
Opening Plenary
Memories of the Future
Opening night at the Great Hall at Cooper Union featured Grace Lee Boggs, (b. 1915) one of the great political and philosophical visionaries of our time. Boggs has been a part of almost every major movement in the United States over the last 75 years. Boggs was joined by Nelson Johnson, Executive Director of the historic Beloved Community Center of Greensboro, North Carolina and a leader of the Greensboro Truth & Community Reconciliation Project, and Andrea Smith, longtime anti-violence and Native American activist and scholar, and a proponent and innovator of new political practices.
The conversation was moderated by Amy Goodman of "Democracy Now!"   FULL TRANSCRIPT
I'm a very old woman. I was born 97 years ago, two years before the Russian Revolution. I am so fortunate to live through all of these changing ideas about revolution.  I want to convey what a privilege it has been to see the change of revolution from the vertical seizure of state power through to people from the grass roots redefining what it means to be a human being, redefining what it is to be a city, to build a new kind of society – what it means to work rather than just have a job. They are redefining what it means to make a life, and not just a living.
We're very fortunate to be living at this time. I'm particularly fortunate. 
I'd like to say that we are involved in a cultural revolution as far reaching as that from hunting-and-gathering to agriculture 11,000 years ago, and from the industries 300 years ago. We are reimagining everything. It is an enormous challenge not only to change the way we organize, but also to change the way we think, in order to change the way we organize … that is where we are. Let's change the way we think. Let's make a new world of opportunities Here – let's seize them." 
Grace Lee Boggs

Guest Speakers (all bios as of 2013):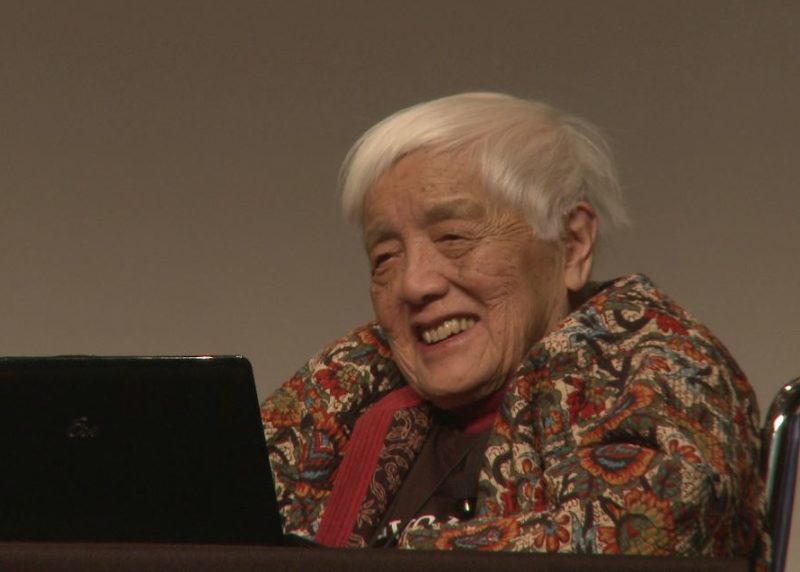 Grace Lee Boggs
 is an activist, writer, and speaker whose seven decades of political involvement encompass the major U.S. social movements of the past hundred years. She is the author of
The Next American Revolution: Sustainable Activism for the Twenty-First Century,
and
Living for Change: An Autobiography
. She works through the
James and Grace Lee Boggs Cente
r in Detroit, training the next generations of leaders to create productive, sustainable, ecologically responsible and just communities.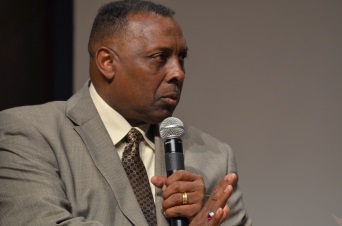 Rev. Nelson Johnson
,
is founder of the Beloved Community Center in Greensboro, NC and a longtime advocate for poor people. He led the 1979 anti-Klan march in which neo-Nazis and Klan members, with police collusion, murdered 5 protesters on November 3, 1979, and has been a leader in the Greensboro Truth and Community Reconciliation process, designed to seek truth and reconciliation around those events.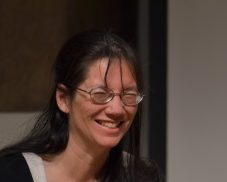 Andrea Smith
is co-founder of
Incite! Women of Color Against Violence
and plays a prominent role in its National Planning Committee. In 2001 she represented the Indigenous Women's Network and the American Indian Law Alliance at the UN World Conference Against Racism in Durban. In 2005, Smith was among 1000 women nominated as a group for the Nobel Peace Prize  She is the author of
Conquest: Sexual Violence & American Indian Genocide
, and editor of
The Revolution Will Not Be Funded: Beyond the Nonprofit Industrial Complex.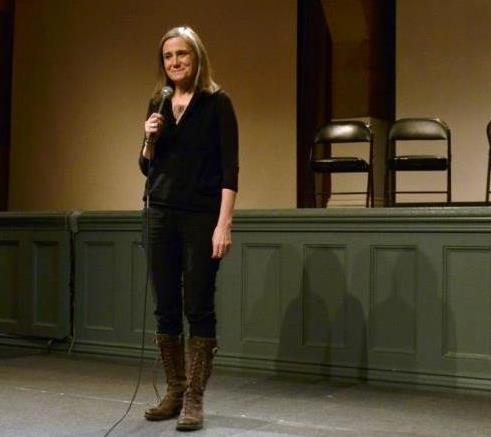 Amy Goodman (Moderator) is the host and executive producer of Democracy Now!, a national, daily, independent, award-winning news program airing on over 1,000 public television and radio stations in North America. Goodman is the first journalist to receive the Right Livelihood Award, widely known as the 'Alternative Nobel Prize'. Goodman is the author of four New York Times bestsellers, including her latest book, Breaking the Sound Barrier.
---
VIDEOS
Dialogue One
Another Politics
This discussion of alternative political orientations and systems that are actually happening throughout the world featured Rafael Litvin Villas Bôas, a coordinator of Brazil's Landless Workers' Movement (MST), one of the largest social movements in the world.  The MST peacefully occupies unused land to establish cooperative farms, homes, clinics and schools for children and adults. Bôas was joined by Mzwakhe Mdlalose, President of the South African Shackdwellers' Movement, the largest organization of the poor to emerge in post-apartheid South Africa, whose struggle for land and housing has become a catalyst for deepening democracy. 
"There are about 23 million peasants without land in Brazil. The MST has organized a little more than 2 million of them  While more than 1400 MST organizers have been killed over the past 20 years, we are not an armed movement, we are moderate. We organize and take over unoccupied land where we build agrarian settlements. From the beginning, we realized that we also needed eduation, culture, health care, and a different type of government. And we also knew that besides agricultural production, we needed to control other mediums of production – for example cultural production – making movies and theatre and poetry and other teaching elements. So we created a theatre sector and from the beginning this is present in the settlements and in the encampments.  And now we also create partnerships with some of the public universities in the country."
Rafael Litvin Villas Bôas

Guest Presenters:
Rafael Litvin Villas Bôas is an activist with Brazil's Landless Workers Movement (Movimento Sem Terra), a member of its National Collective of Culture. He holds an undergraduate degree in journalism (2001), a Masters in Social Communication (2004) and Ph.D. in Brazilian Literature (2009) from the University of Brasilia, where he serves as a professor, teaching courses in the area of Aesthetics, Theatre and Social Sciences. 
Mzwakhe Mdlalose, is the new President of the South African Shackdwellers' Movement (Abahlali baseMjondolo),  He grew up in a village without water and sanitation that was under the control of an unelected traditional leadership. While he was engaged as a supporter of the ANC in the struggle against apartheid, in 2009 his home was destroyed, as he and many others were driven out of the Kennedy Road shack settlement by armed members of the ANC. It is very important to him to organise and struggle to promote the bottom-up process that is recommended by the constitution of South Africa, but which is denied by the top-down ways of the current government and NGOs.
---
VIDEOS
Dialogue Two
Another Media
This conversation featured Claudia Acuña, investigative journalist and founding member of the media cooperative La Vaca in Buenos Aires, Argentina; and Diana Nucera, Program Director of Allied Media Projects in Detroit, Michigan.
"Our starting point and finish line can never be money… Because we don't have any. What we do have is people. Our technology is humans. We broadcast with our feet."
— Claudia Acuña  


Guest Presenters: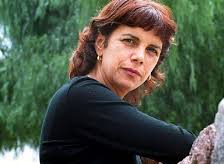 Claudia Acuna, journalist, is the founder and president of lavaca.org, a communications cooperative dedicated to spreading information about social justice organizations and struggles for human rights.  LaVaca consists of a news agency, a monthly newspaper, a publishing imprint, a radio program and a cultural center that supports social economy projects. Much of her work focuses on worker-run media production, struggles for the rights of women, precarious workers, immigrants and native peoples.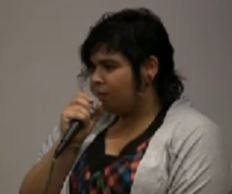 Diana Nucera, Media Maven, has been teaching and working in media arts and technology for the past thirteen years. Diana builds multi-media creative centers wherever she goes. She is a Co-Director of Allied Media Projects (AMP), managing media and technology educational programming in Detroit, Michigan. AMP advances strategies for using media and technology to investigate, illuminate, and develop visionary solutions to the crises faced by our communities.
---
VIDEOS
Dialogue Three
Another Safety
How do we respond to our experience of violence or that's produced in our society, thinking outside the criminal legal system that we're inside today? Mimi Kim, founder of Creative Interventions in Oakland, CA; and Joyce and Nelson Johnson, who will present on the Greensboro Truth & Community Reconciliation Project. will tell us why that's important to do, and show us a little about how it's done.
In the early 2000s people could not even imagine what an alternative to state intervention [police, crisis lines, shelters, the courts] could be in dealing with situations of violence. But invariably 15-20 minutes into these conversations, someone would say 'oh, is it like this story I heard about a group of high school kids who found out their friend was being beaten by his father and they went and confronted him–is that what you mean?' 'Yes that's what we mean.' There's a lot to learn from these stories. So this became the basis of a story-telling organizing project [with Creative Interventions.] We collected these stories over three years, what people have done on their own to deal with situations of violence — I wanted find out about those high school kids…what happened, we wanted to see what works and what doesn't, and how we can be inspired to do these things ourselves.
Mimi Kim
Guest Presenters:
Joyce Hobson Johnson
:  Active in civil rights struggles since the '60s, Johnson is Director of the Jubilee Institute of the Beloved Community Center in Greensboro, NC, which provides support, social and political analysis, and training for the broad-based progressive movement. She was also an important figure in the 
Greensboro Truth & Community Reconciliation
efforts.
Mimi Kim is a long-time anti-violence advocate and activist primarily working with Asian immigrant communities. Inspired by the work of Incite! Women of Color against Violence, she founded Creative Interventions (CI) in Oakland in 2004 to create and promote community-based interventions to interpersonal violence. CI is creating a Toolkit to support people in engaging in these interventions, and incubated the StoryTelling & Organizing Project (STOP), which collects and shares stories of everyday people challenging interpersonal and state violence.
---
VIDEOS
Dialogue Four
Another Economy
Featuring Daniel Tygel, former Executive Secretary of the Brazilian Forum for Solidarity Economy; and Michael Peck, U.S. representative for the Mondragon federation of worker cooperatives in the Basque Country.
"In the Solidarity Economy, we don't talk about profit, and we don't talk about employees and salaries. We talk about co-responsibility, we talk about creating a new economy — one of co-operation instead of competition."
– Daniel Tygel 

Guest Presenters: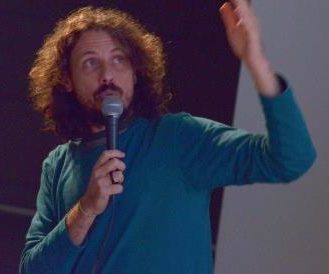 Daniel Tygel, Speaker
Formally a theoretical physicist, Daniel has contributed in the last 15 years with the solidarity economy, agroecology and environmental movements. From 2005 to 2011, he was executive secretary of the Brazilian Solidarity Ecomony Forum, which represents this popular movement in Brazil. He also works on EITA, a self-managed initiative dedicated to strengthening the grassroots social struggles through the construction of open source information technologies and participative methodologies for their use.
Michael Peck has served as the North American delegate for Mondragón, the world's largest industrial worker cooperative with 2011 sales of $250 million. In October 2009, Michael participated in forming the Mondragon and United Steelworkers Union (USW) partnership to create union-coop hybrids with the goal of revamping U.S. manufacturing through worker empowerment and ownership. Michael is the author of the "One worker, one vote" blog.
---
VIDEOS
How Much Did It Cost?
From the program: