"I welcome …all of you… into this curious room of forgetting what had been remembered."
Out of the age of McCarthy and the Beat poets, Rux has created controversial African-American artist Archer Aymes, who became an overnight sensation for his first book, "Mother and Son" — ten turbulent years later, he was found dead in a prison cell. In TALK, a young artist, and moderator of this evening, has gathered five panelists to discuss the life and work of Archer Aymes, and the meaning of his legacy. Commissioned in response to The Foundry's Conversation on Hope, Talk is a fierce exploration of identity, and the struggle to maintain an original voice.
2002 : The Public's LuEsther Hall
Company
Written by  Carl Hancock Rux
Directed by Marion McClinton
Featuring:
Anthony Mackie
Reg E. Cathey 
James Himelsbach
Karen Kandel
John Seitz
Maria Tucci
Set Design: James Noone 
Costume Design: Toni-Leslie James
Lighting Design:  James L. Vermeulen
Sound Design: Tim Schellenbaum
Film by: Marilys Ernst
Dramaturg: Jocelyn Clark
Production Stage Manager: Scott Pegg
---
There comes a time in your life, when you discover an emptiness. You have no thought of yourself as empty and you have been operating as if you were not. But a day comes when you are made aware of it – your emptiness – and you yearn to be full. The pain of discovering this emptiness is unequaled by anything, except the pain of this yearning to be full. That is when you begin – for the first time in your life – for the first time with your life – to search for a language. A tongue. A voice. A means of articulation..

.
–
Excerpt from TALK
Press
"The most ambitious play in years. Talk wins the case for a renewed theatre of ideas."  – TimeOut NY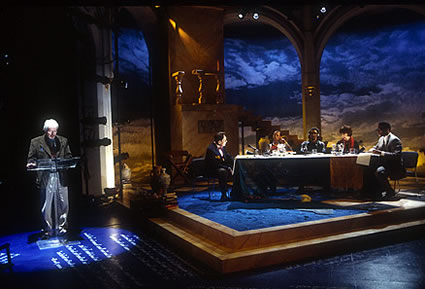 Carl Hancock Rux's dazzling new play "Talk" takes us back to the golden age when the panel was the best theater of ideas around.
– The NY Times

 

(2nd review)
"Original, provocative, and entertaining… One of the best evenings this season."
---
Winner of 2 OBIE Awards
 
Best Ensemble Performance: The Company
Film/Video Design: Marilys Ernst