"The questions which one asks oneself begin, at least, to illuminate the world…" – James Baldwin
How Much is Enough is a play built entirely of questions posed by three performers to audience members, to one another, and sometimes to the sky, about what we value — quantitatively in our relation to money and qualitatively by what we hold dear.  Questions are answered, new questions arise, while an onstage "googler" projects live searches of the conversation each night.  As the show progresses, we begin to discover the ways the lives we live, the world we create together, and the future we might imagine are repositories of value.  Equal parts town hall meeting, party, and guide for the perplexed, How Much is Enough gathers its greatest theatricality from the most interesting people in the theater – those who usually sit in the dark.
September, 2011: Premiered at ArtsEmerson, Boston
November, 2011:  St. Ann's Warehouse, NYC
Company
Written by Kirk Lynn
Co-Created & Directed by Melanie Joseph
Featuring:   
Noel Joseph Allain, Mia Katigbak,
Carl Hancock Rux  (in NYC), 
Erwin Thomas (in Boston)
with 
Mohammad Yousuf as "The Googler"
Set, Lights & Projection Design: Jeanette Oi-Suk Yew
Sound Design: Kristyn R. Smith
Dramaturg: Morgan Jenness
Production Stage Manager: Sarah Elizabeth Ford
---

If you could have one extra hour today, what would you do with it?
What was the first thing you bought as a child, with your own money?
How many years do you think it would take to live a 'long enough life'?
If I looked at your schedule this week, would I be able determine your values with any accuracy?
Have you ever called the police?
What's the most generous thing you've ever done?
Kirk or Picard? 
from How Much Is Enough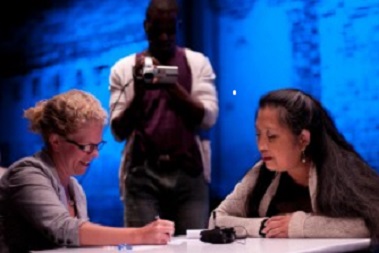 Press
"…the show thrives from the thrill of first discovery and not knowing what comes next"  Theatremania 
"Poignant moments were strung like pearls throughout the performance…It certainly gives insight into how audience members and an engaged theater company can work
together in compelling ways…"
– ArtsFuse, Boston
"An exciting and risky experiment. The show—and it is very much a show—scraps that whole "play" part, where a story is told to which we then react.  Rather, it assumes that we all have personal stories from which to extrapolate … – Blast Magazine, Boston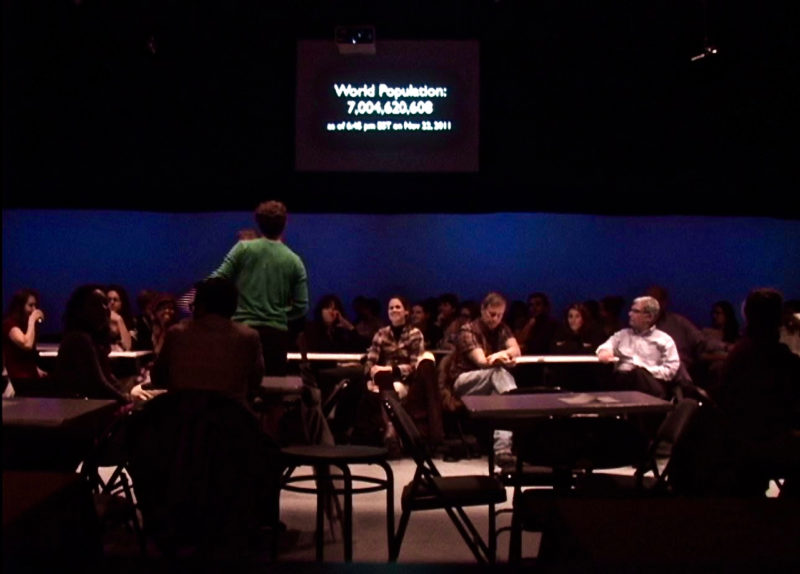 What If?
Selections of 'what if' proposals collected from audiences:
What if there were public squares in every neighborhood?
What if it were customary to invite a stranger to supper twice a week?
What if no one owned land of any kind, if it were part of a Commons?
What if doctors were paid the same as teachers?
What if we didn't use prisons or police forces to ensure safety?
What if no one ever inherited wealth, of any kind?
What if citizenship weren't organized by country?
What if our government were a participatory, not a representative democracy?
How Much Did It Cost
How do you determine the 'cost' of your time? 
How much do you think is enough to live in a year, in this city, at this time?