The Convention of Cartography is a traveling art exhibit featuring the collected works of an itinerant, now deceased, artist named Mike. The curator speaks of traveling as a teenager across the country with Mike as he created and left his art works in diners, gas stations, highway rest areas and underpasses, union halls, peoples' attics, etc. Since Mike's death, the curator and his wife spend each summer retracing Mike's travels across America to find and retrieve the works he left behind.
The evening begins with video clips of the curator's interviews with Mike during his final days in a cancer hospice. After which the audience is invited into the pop-up museum in which all the collected works have been installed. As people explore the museum and interact with Mike's art, the maps of his travels, and with one another, a larger narrative begins to emerge about the nature of art/fiction and truth, and what is haunting and ultimately unknowable about those we love.
1994 : A small house in the middle of a courtyard on W. 17th St. NYC
Company
Written by  W. David Hancock
Directed by Melanie Joseph

Featuring:
W. David Hancock: The Curator
Nancy Hanway: The Curator's Wife
Dennis Baumwall: Mike
Myrna Treston: Voice of Ida
Dramaturg: Nancy Hanway
Museum Lighting Design
& Installation Carpentry: Teddy Jefferson
Press Representative: Carol Fineman

---
In my museum I will display objects that are clues to who I am.  A book of matches with a praying mantis on the cover, a postcard from the 1936 world's fair written in Arabic, a blood stained wool hat I found on the side of the road. If you're sensitive enough, you'll feel the eidolons emerging from these relics.  –Mike
I've got plenty of stories, that's for sure.  There's a hidden flow of information that comes out of my head twenty-four hours a day.  That's the secret of my illness. You have to understand with me, there's a secret black liquid behind everything I say.  It's behind the words,  It flows from me to my past, connects me to everything I've ever seen and every place I've ever been, so that I see everything all at once.  I can't look at somebody without seeing the connections.  – Ida
Press
"a precious feast for all the senses, from the tactile to the analytical … and reminds us that the future is never unsurprising."  
The Village Voice
"One of the most arresting pieces I've seen … a tantalizing new wrinkle in the art of participation."  New York Newsday

 The Village Voice 'review' – not printed – by our request – until after the show closed.
---

OBIE Award: Best Playwriting, W. David Hancock

Drama Desk nominee for "Most Original Theatrical Experience"

Invitation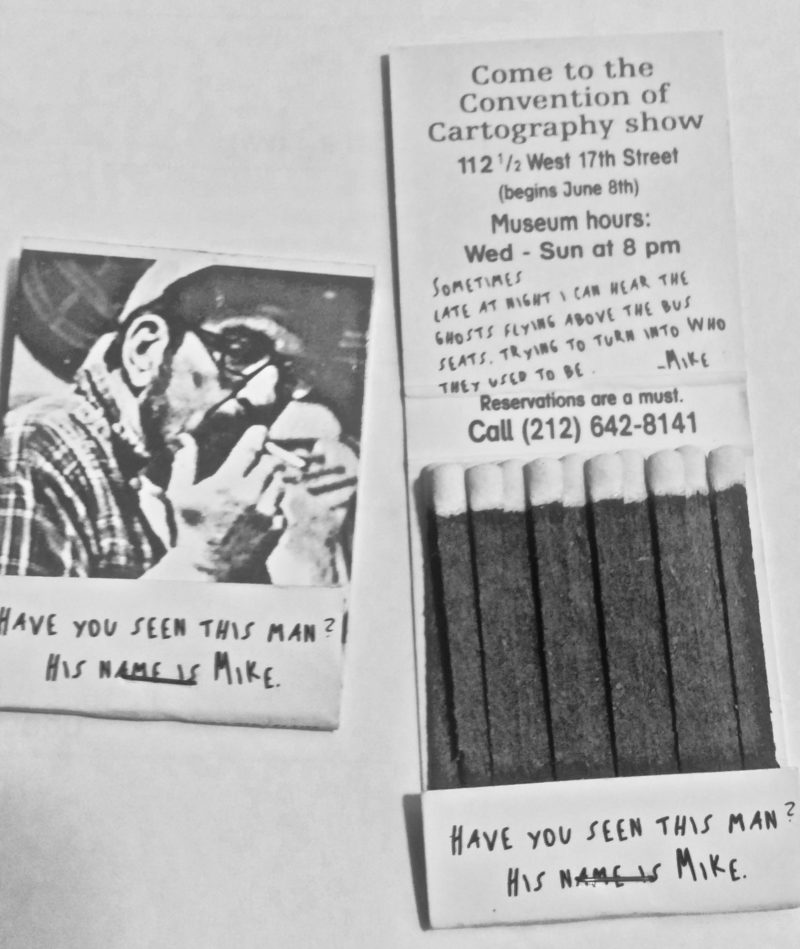 People were invited to Cartography by receiving a personal note in the mail that came with this book of matches. There were a number of theatre people in NYC, fans of Hancock's work, who were willing to allow us to send a 'from the desk of' note from each of them to their respective mailing lists. If it hadn't been for: Morgan Jenness, Jim Nicola, Annie Hamburger and Glenn Young … and 19 generous people who helped stuff the 7960 envelopes to their collective mailing lists … 
Origins
This was The Foundry's inaugural production.  It was presented in a small clapboard house in the middle of a courtyard at 117 ½ w. 16th St and in order to protect the experience of its 'reality', audiences were not invited to a play (indeed many people who attended never knew it was a play) but rather to a special event (see "Invitation").
Many of the Foundry's producing traditions – our dramaturgical invitations, handing out programs at the end of a performance, making atypical theatrical works, in sometimes atypical spaces – were inspired by starting the company with this remarkable, theatrical work.