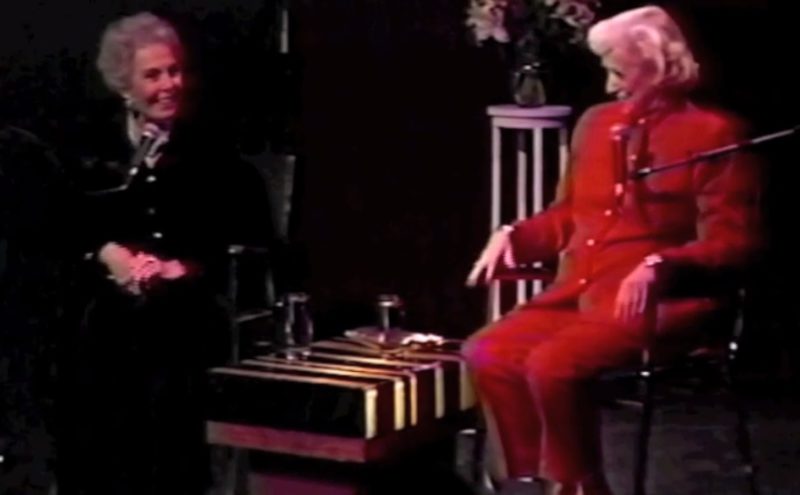 The Legacies Series, an oral history project, features our theatre elders — actors, writers, directors, composers, designers and producers — working people who have kept alive a dedication to the precarious profession that is theatre. This program honors their work by the passing on of their working histories to those of us coming up after them.
Guests
Marge Champion
Daughter of pioneering film choreographer and dance educator Ernest Belcher, Ms Champion began classes with her father at the age of 5. She grew up in Hollywood, working as the live-action model for Walt Disney as the title character in Snow White and the Seven Dwarfs ('37), the "blue fairy" in Pinocchio ('40), as well as the choreography for the hippos in Fantasia's The Dance of the Hours ('40).  Briefly appearing with partner Louis Hightower in clubs and onstage in Tonight at 8:30 on the West Coast, she began her onscreen film career with Hightower (as Louis and Celeste) in Saturday Night at the Trocodero (a '37 MGM short), continuing with a role in The Story of Vernon and Irene Castle ('39) and appeared in the western Honor of the West ('39) as "Marjorie Bell."  She danced onstage in her father's Hollywood Bowl ballets and the LACLO productions of Blossom Time and The Student Prince, had roles in The Little Dog Laughed(OOT '40) and Portrait of a Lady (OOT '41) and made Broadway appearances in Dark of the Moon, Beggar's Holiday,  and What's Up?  She had first met Gower Champion in junior high school and later was reintroduced to him at her father's school.  In 1946, they began to work together, creatimg a landmark dance act which took them to unprecedented TV, Broadway (Three for Tonight, '55) and film stardom.  With the decline of the movie musical, Gower began choreographing and directing exclusively for the stage. Marge assisted him on the various companies of Bye Bye Birdie and Carnival and was later associate choreographer to Tommy Tune on Stepping Out ('87).  Separated from Gower in 1971, she continued as an actress  and choreographer, winning an Emmy for her work on the television special Queen of the Stardust Ballroom in 1974.  She was made a member of the Tony Award committee in 1992 and presently serves on the Board at Jacob's Pillow and the Williamstown Theatre Festival.
Miriam Nelson
Made her Broadway debut in 1939 and over the next three years appeared in five Broadway shows and was named "The Best Chorus Girl on Broadway."  Shortly after, she moved to Hollywood with husband Gene Nelson, appearing in several films before beginning her prolific career as a film choreographer.  Known for her tap expertise and specializing in staging party sequences, her credits include such classics as Picnic, The Apartment and Breakfast at Tiffany's.  In addition to her film work, Miriam has choreographed dozens of nightclub acts, as well as countless TV shows and commercials.  She is one of the pioneers of spectacular Arena show staging and will be part of the team coordinating a cast of 5,000 for an event at the L.A. Coliseum New Year's Eve, 1999.